Anyone who has curly hair will tell you that they wish their hair was straight, and anyone with straight hair pines for waves. I know the feeling! I have very naturally straight hair (and don't do that much to it in terms of styling) so you know if I've curled it that I've really made an effort!
But, it turns out that you don't even need a curling iron or wand to get big bouncy waves!
Say what?
See the before and after shots of me below? Those waves are all thanks to my straightener!
But, but, but straighteners are made for STRAIGHTENING hair!
Nope! With a couple of easy-to-master techniques, you can easily get mermaid like soft curls with a straightener. And I'm going to show you how.
Taken By Surprise Tutorial: How To Curl Hair Using A Straightener
What you will need:
1. A straightener (duh)
2. Hairspray
3. Heat protectant spray
4. A brush
My straightener is a VS Sassoon VSCS31A
1. First of all, give your hair a good brush so there aren't any tangles and your hair is smooth. Also, I'm showing you all the steps with my glasses on; I ran out of contact lenses and without them I can't see what I'm doing haha
Gosh, how cheesy do I look in the last photo? So cheerful haha
2. We've all seen the video of the girl who tries to curl her hair and
burns a chunk of it off
, SO LET'S NOT LET THAT HAPPEN. Protect your hair using a heat protectant spray and spray it all over your hair (including bangs if you're me), then brush it through to make sure it's evenly distributed. These sprays also help hold the style, whether it's straight or curled, so bonus!
TRESemme Heat Tamer Protective Spray
BONUS STEP:
I have a straight fringe/bangs, so I always have to curl that first before styling my hair. If you don't have a fringe, you can obviously skip this part. If you would like to know how I style my fringe, I did a tutorial on it which you can read
here
if you would like :)
From blah fringe to bouncy fringe!
3. Before we start curling the rest of our hair, split your hair down the middle so you have two sections, one section over each shoulder. Then take around 2cm/1" piece of hair from the front and...
4. ...place the section in between the clamps of your straightener, which should be about where your ear is. Then you want to twist the straightener away from you, making sure the hair is still between the clamps. Then slowly pull the straightener down the section of hair as you continue twisting. This is what creates the curl! Once you get to the ends of your hair, roll the straightener back up (like how you twirl spaghetti with a fork) and hold it there for a few seconds, then let the curl go.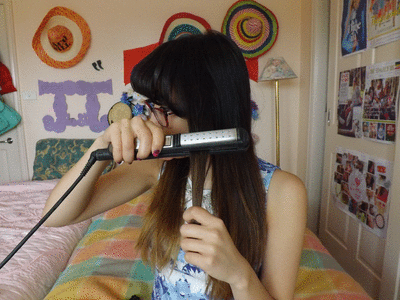 5. Let the curl cool for a few second so it stays in that shape, then gently put it over your shoulder. Then keep curling small sections like before until all your hair is curled!
6. Then give your hair a good spritzing of hairspray to lock in the curls, then gently finger comb your curls to loosen the shape and make them wavy rather than curly. Then give the top of your hair at your roots a good mussing up!
And that's it! This is what it looks like from the front and the back...
Do you have curly, wavy or straight hair? How do you style your hair on a daily basis? Let me know in the comments below!